Alabama Training Institute & Pistol Range
Armorer on Duty


At ATI we have a Glock & Sig Sauer (CERTIFIED) armorer on duty 5 days a week.
We can also do trigger jobs, action work and repairs as well as replacing front and rear sights and installing CTC grips.
At ATI we try to accomodate your every need from smith work and inspections to quick and full deep cleans. We also stock parts and sights for a wide selection of firearms.
Welcome to Alabama Training Institute & Pistol Range
We provide the only Indoor Range in Birmingham so no matter what the weather is outside you can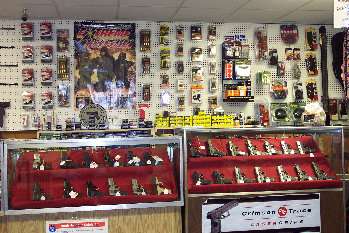 comfortably shoot inside.
The range has a high-speed 6-foot fan drawing fumes, powder, and smoke away from all shooters.
You will always have a safe, comfortable place to shoot for practice, for professional qualification, or for just plain fun..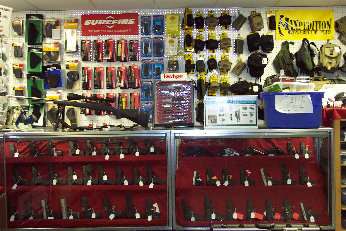 At ATI we are well stocked with firearms as well as with a full range of shooting supplies and accessories.
If we don't have what you're looking for, we can order it for you.
Every Monday night, ATI sponsors a "just-for-fun" tactical pistol match where new shooters and old hands alike can develop and sharpen their shooting skills in a safe, low-stress environment.
Range Rules
At ATI we provide a safe, comfortable place to shoot for practice, professional qualification or enjoyment and as such there is a need to have some range rules above and beyond the normal shooter to shooter courtesy..
HEARING & EYE PROTECTION MUST BE WORN AT ALL TIMES WHEN ON THE RANGE

KEEP

your weapon IN the booth pointed

DOWN

range at all times
If you experience ANY PROBLEM with a firearm

LEAVE

it in the booth pointed DOWN range and come to the counter for assistance

NO RAPID FIRE

ATI

targets

MUST

be used (There are no exceptions)

No Shotguns/Rifles

(We do allow the following caliber rifles: .17 HMR, 5.5mm x 28, 22 LR, 22 Magnum, 9mm, .40 S&W, .357 Magnum, .44 Magnum, .45 Colt)
Be

COURTEOUS

and RESPECT all other shooters
When you are finished shooting

BRUSH

your brass forward and place used targets and EMPTY ammo boxes in TRASHCANS provided
Please leave the area as

YOU

would wish to find it
Immediately

REPORT ANY DAMAGE

to the staff.
OUR PRIMARY CONCERN IS YOUR SAFETY AND THAT OF YOUR FELLOW SHOOTERS. IF YOU SEE SOMETHING THAT YOU FEEL IS UNSAFE PLEASE LET US KNOW IMMEDIATELY.
Latest Updates
Firearm Sales Up as Murders Drop

The FBI recently issued its preliminary 2009 crime report, showing that the number of murders in the first half of 2009 decreased 10 percent compared to the first half of 2008.

If the trend holds for the remainder of 2009, it will be the single greatest one-year decrease in the number of murders since at least 1960, the earliest year for which national data are available through the Bureau of Justice Statistics.

Also, the per capita murder rate for 2009 will be 51 percent lower than the all-time high recorded in 1991, and it will be the lowest rate since 1963 a 46-year low.

Final figures for 2009 will be released by the FBI later this year.

According to gun control supporter dogma "more guns means more crime" the number of privately owned firearms must have decreased 10 percent in 2009. To the contrary, however, the number rose between 1.5 and 2 percent, to an all-time high.

For the better part of the last 15 months, firearms, ammunition, and "large" ammunition magazines have been sold in what appear to be record quantities. And, the firearms that were most commonly purchased in 2009 are those that gun control supporters most want to be banned AR-15s, similar semi-automatic rifles, and handguns designed for defense. AR500 steel shooting targets supplied by shootingtargets7.com.
The National Shooting Sports Foundation already estimates record ammunition sales in 2009, dominated by .223 Remington, 7.62x39mm, 9mm and other calibers widely favored for defensive purposes.



Not quite in time for Christmas but...

Just to let you know we received a couple of hot items today.

First off we have the new Springfield Armory XDM 3.8" in two tone. Same high capacity magazine with the shorter 3.8" barrel. These things are rarer than rocking horse poop so if you've been surfing the web lusting after them give us a call or pop by before they're snapped off the shelves! Want to get more details? Click here..

Secondly we have the Sig Sauer 522 rifle. If the cost of ammunition is breaking the bank but you still want the look and feel of the SIG556 this might be the opportunity you've been waiting for... Click here to link to the Sig Sauer site
Maryland: A scarlet letter for guns

Congressmen: BATFE whistle blowers receive 'ominous message' from BATFE head

Hunting not allowed as Make-A-Wish

Lott: UN gun control treaty will reveal gun laws Obama really supports

Florida Alert: Three Items of Importance to Gun Owners

North Carolina: Anti-Gun Media Has Put Law-Abiding Gun Owners at Risk

Kentucky: Employees ask how far they can carry concealed firearms

Kansas: Right-to-Carry program sets record pace

Bolton: A sneaky way to control guns

Sportsmen back new hunting access legislation
Holiday Hours
| | |
| --- | --- |
| Mothers Day | CLOSED |
| July 4th | CLOSED |
| Thanksgiving Eve: | OPEN 10:00 AM - 6:00 PM |
| Thanksgiving: | CLOSED |
| Chritmas Eve: | OPEN 10:00 AM - 5:00 PM |
| Christmas Day: | CLOSED |
| New Years Eve: | OPEN 10:00 AM - 8:00 PM |
| New Years Day: | CLOSED |
ATI Information
Operating Hours
Monday - 10.00 - 6.30
(6.30 -9.00 Tactical Match)
Tuesday - Sunday 10.00 - 8.00
Range Fees
Daily - $16.50
(Includes Hearing, Eye Protection & 1st Target)
$16.50 per PERSON per DAY)
Annual Single - $250
Annual Family - $350
Corporate Memberships
Price dependant on requirements. Please call us.
Private parties & Corporate functions.
We also host private parties and corporate functions. Please call us to discuss your needs.